Find the answer you need by clicking on the topics below;
Categories
Opening hours
From 8:00h to 14:00h
Monday to Friday
Address
C/ Huelva, 1
08940 Cornellà de Llobregat
Spain
INDIVIDUALS AND LICENSES
Are you selling to private individuals?
Yes, we can sell to private individuals.
Are there any volume limitations for private individuals?
No, you as a private individual can acquire ownership of any cylinder of any volume without a contract or licence.
Is it necessary to have some kind of authorization, contract or license to obtain a cylinder?
No permission, contract or licence is required for the purchase of cylinders.
EXPIRATION
How often do cylinders expire?
Cylinders expire 10 years from the date of manufacture or the date of the last re-stamping.
Where can I identify if the cylinder is expired?
To find out if a cylinder is out of date, look for the last engraved date on the cylinder's warhead: this can be either the date of manufacture or the date of the last re-stamping/inspection. In both cases, you have to count 10 years from that date. If the calculation gives a date lower than the current date, the cylinder is expired. * Please note that this may change depending on the year of the cylinder.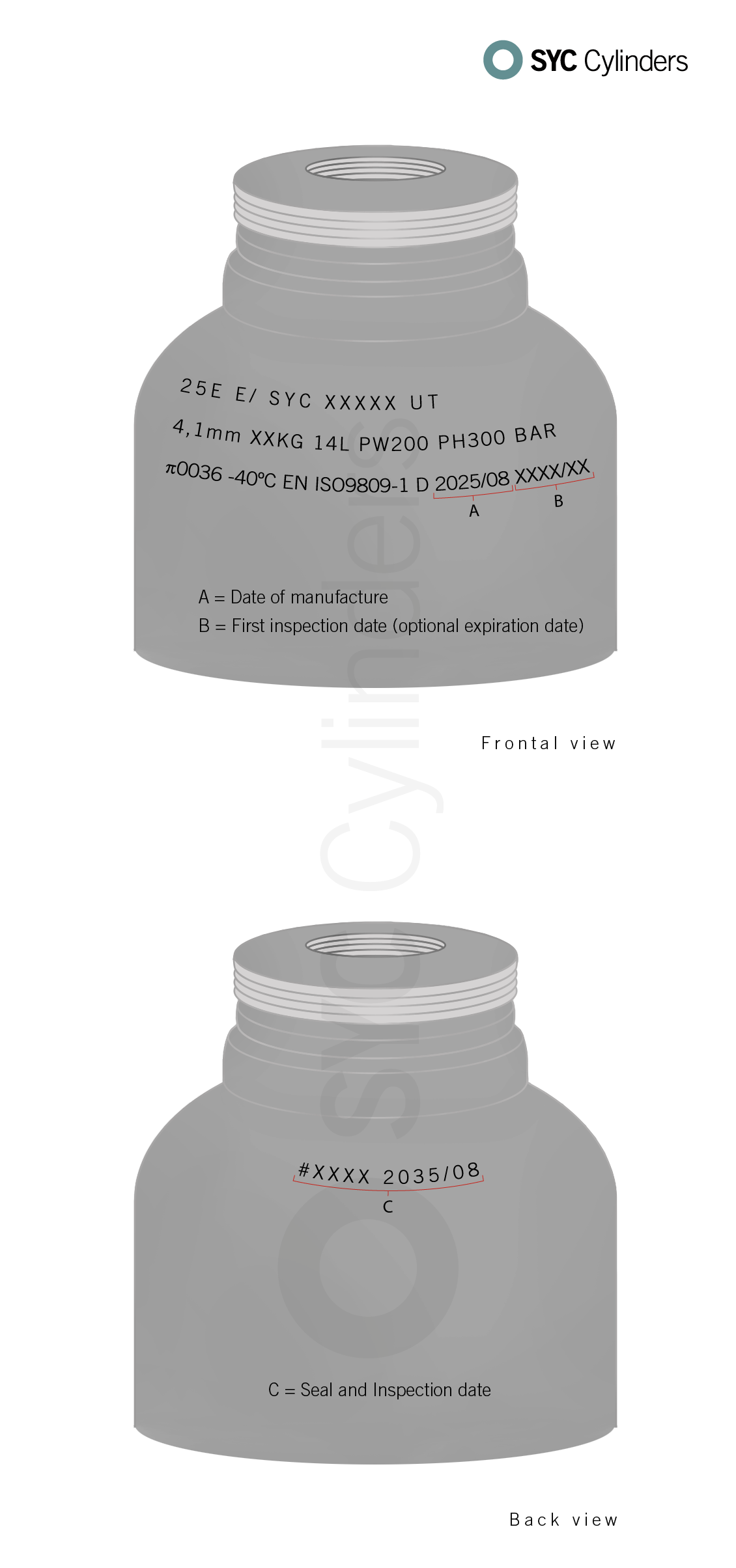 Withdrawal of old cylinders, are they collected?
No, old or expired bottles are not collected.
Can old cylinders be recycled and is there a cost?
No, we do not recycle cylinders for disposal.
PAYMENT AND SHIPPING
Is it possible to go directly to the centre of Cornellà de Llobregat to make a purchase?
Yes, the Cornellà de Llobregat centre has a shop where you can buy and pick up the material directly.
How can I pay in the centre of Cornellà de Llobregat?
Payment can be made in cash or by credit card. Bank transfer is not allowed.
How much does it cost to ship a new cylinder?
The shipping calculation can be done via the website. You need to add a product to the shopping cart. Once the items have been added. Click on the cart and you have the option to see the shipping costs. The drop-down menu opens and you select the location where the material should be sent. It automatically calculates the shipping costs. * If the country or province is not listed on the website, please contact us.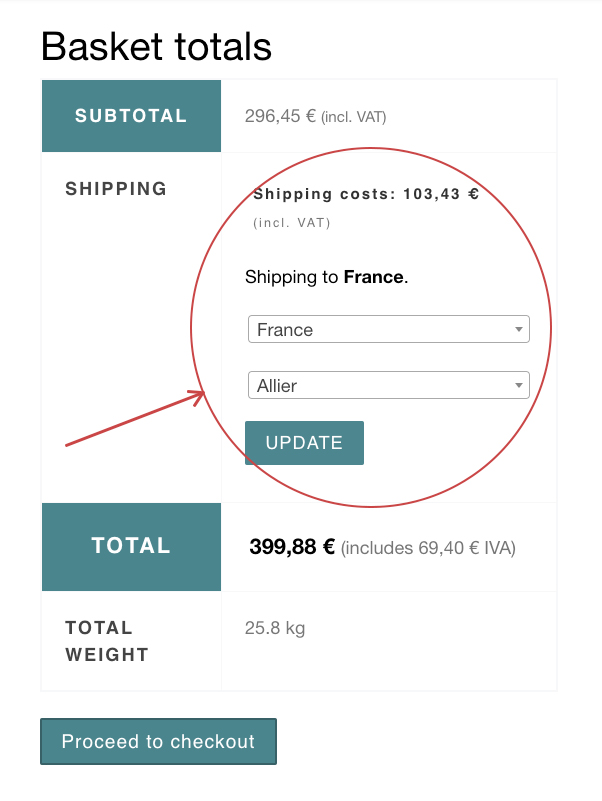 How long is the shipping time? Approximately how long does it take to reach the destination?
Products are shipped the day after confirmation of payment. Arrival time can range from 2 to 10 working days. These products require an ADR transport service that not all transport companies offer, which is why the delivery time is usually longer.
Rent, buy and refill? Differences?
The rental of the cylinders is aimed at those people who need them for one-off jobs of 1 or 2 days maximum (only in Spain). The cylinder that is purchased becomes the property of the client and no contract is required. And the refill is when you have an empty bottle that is inspected and the customer is given one of the same characteristics if everything is correct (only in Spain).
To which areas are the products shipped?
Deliveries are made throughout the Iberian Peninsula (not included Balearic Islands and Canary Islands), Portugal, France and Belgium. For all other countries please contact us for a quotation.
Do you offer a tracking number for the package?
No, we do not have automated tracking numbers. If you need the number or want to know when it will arrive you can phone us or send us a message.. As it is special goods or ADR we cannot send an automated tracking number.
RECHARGES
Which bottles are refilled and which are not?
Refillable cylinders are those that have been inspected by our technical staff and comply with the conditions to be able to refill a gas. Cylinders that are not refilled are those that have suffered damage, knocks or if there are cracks inside and refilling is not possible. Or they do not comply with the refill regulations.
Do the bottles have to be SYC Cylinders to refill?
No, the cylinders can be from any supplier, they don't necessarily have to be ours.
How long does a refill take?
The refilling process is carried out if the bottle complies with the conditions and so that the customer does not have to wait for the refill, we provide him with one of the same characteristics that we will already have in stock in our warehouse.
Is it possible to exchange a bottle of a different size and pay the difference?
No, it is not possible to change a bottle of different size or different gas. It can only be changed in the case of inert gases (with green warhead) and always of the same volume.
Can a cylinder of one gas be exchanged for a different gas?
No, only between inert gases of the same volume (with green warhead).
WELDING AND USES
What is the gas purity rating on SYC cylinders – 4.6, 4.8 or 5.0?
The purity grade of our gases are:
Oxygen >= 99,5% / 2,5
Nitrogen >= 99,999% / 5.0
Argon >= 99,997% / 4.7
CO2 >= 99,9 % / 3.0
Acetylene >= 98,5% / 1.85
Is SYC nitrogen suitable for air conditioning leak detection?
Yes, the nitrogen we have is used to detect leaks in air conditioning circuits.
Differences between MIG, TIG, MIG MAC, Wire Welding
TIG welding (Tungsten inert gas) or GTAW welding (Gas tungsten arc welding) A tungsten electrode is used which does not melt and is not consumed. Its purpose is to establish and maintain the electric arc. If filler material is required, rods are used. The electrode is mounted on a torch. The main gas used in this type of welding is argon.
MIG welding (Metal, Inert gas): Metal welding with inert protective gas (argon, CO2, C-15…). The electrode is the filler metal, which is fed to the torch automatically from a coil of wire from the welding machine itself. The coil of wire acts as electrode and filler metal.
MAG welding (Metal active gas): Metal welding with Active Shielding Gas (CO2). The filler metal must contain manganese, silicon, aluminium, etc.
Gas metal arc welding (GMAW): GMAW welding is used on thicker parts and has a higher work output. It provides 10 times more material than TIG welding. It can weld all metals that are welded with the TIG system plus all steels in general.
Arc welding Or MIG/MAG welding is a process that generates a direct current of heat and creates an electric arc from the wire to the metal object to be welded, called a weld seam.
The equipment that can weld? Copper, Iron, Steel, Aluminium, Titanium?
Depending on the material to be welded, a different type of welding and gas will be used in each situation. In TIG welding we will always use Argon, while in MIG welding we will use the mixture C-15 or Argon. If what you want is to cut, industrial Oxygen will be used and only for iron and steel. And steel, alloy, aluminium… will depend on its thickness.
Are the cylinders sold at SYC suitable for welding with a wire machine?
Yes, some threading machines require cylinders of Argon – CO2 (C-15) or other inert gases which are available from SYC Cylinders.
ADDITIONAL QUESTIONS
Which gases are available, and which mixtures? SF6 gas? Helium? Dry nitrogen? Compressed air? Breathing oxygen?
We do not refill refrigerant gases. The oxygen we have is not breathable air. We only have the following gases available; Industrial Oxygen, Argon, Nitrogen, Acetylene, Butane and C-15 Mixture (Argon and CO2).
Can the bottles be transported inclined, horizontally or vertically?
It can be transported either vertically or horizontally, but must always be securely fastened because it is dangerous goods.
Is it possible to order other mixes %?
The minimum order quantity for special or custom blends is 20 units.